Thorntown High School


Classes of 1924 - 1974

In Memory
Frances Bailey (Fairfield)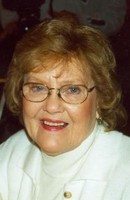 Frances Fairfield
(February 10, 1935 - June 10, 2014)


Mrs. Frances Fairfield, 79, of Thorntown, passed away June 10, 2014.
Frances was born February 10, 1935 in Tennessee and later moved to Boone County, Indiana. She was the daughter of the late Joshua and Mildred (Rankin) Bailey.
Frances and her husband, the late Floyd Fairfield – who passed away in 2010 – were married March 1953 and lived in Thorntown where they raised four children: Carolyn (David) Broach of Hillsboro, MO; Lynette (Doug) Dickerson of Lebanon, IN; Sharon (Bruce) Walter of West Lafayette, IN and Bryan (Gina) Fairfield of Lafayette, IN. She was the grandmother of nine and great-grandmother of nine. She is also survived by a sister Mildred Cravens of Greentown, IN. She was preceded in death by siblings Doris Tuitasi, Bob Bailey and James Bailey.
Frances loved and cared for her family as a homemaker. She especially cherished her role as a grandmother. She loved living in Thorntown in the home she and her husband built in the 1960s. The Town of Thorntown was ranked "the number one place in the world to live" for her and Floyd. She volunteered her time at the Thorntown Park with grounds upkeep. She enjoyed talking to people while out and about the town. She attended Thorntown United Methodist Church and later First Assembly of God in Lafayette.
In the 1950s, she sang at Shady Acres Ranch in Mulbery, IN, with her two sisters, Mildred and Doris, and they were known as "The Bailey Sisters." She enjoyed playing her bass fiddle in a small band for a few years in the 1970s.
Frances graduated from Indiana Barber College and worked as a hair stylist at Floyd's State Street Barber Shop in West Lafayette, near the Purdue campus in the 70's and 80's. She also assisted her husband with his rental property business near the Purdue campus in West Lafayette.
She wrote and recorded a cassette "To Glorify the Lord" which included songs "Just Ask Me About My Grandkids" and "Tell Me Jesus" and many more. She enjoyed singing at church.
Frances truly enjoyed her grandchildren. She spent many hours with them going to Turkey Run State Park, Lafayette Columbian Park, riding bikes, playing baseball, making trails and campfires in the woods, and shopping with them too.
Her final years of life were spent in her home with wonderful in-home health care ladies and family at her side. The family would like to thank all of the ladies who assisted with her care.
Family and friends will gather Friday, June 13, 2014 for visitation from 4 p.m. until 8 p.m. with services being held Saturday, June 14, 2014 at 11 a.m. with her grandson, Pastor Jeremy Broach officiating in the Strawmyer & Drury Mortuary, 2400 N. Lebanon Street, Lebanon. Memorial donations in her memory may be made to Thorntown United Methodist Church, 201 N. Market St., Thorntown, IN 46071. You are invited to visit the website www.strawmyerdrury.com where you may sign her online register and leave a personal message