Thorntown High School


Classes of 1924 - 1974

In Memory
Wilma Jean Hull (Fairfield)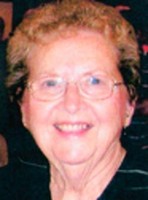 Mrs. Wilma Jean Fairfield, 78, of Thorntown, went to be with the Lord on Wednesday, May 28, 2014, at St. Vincent Hospital in Indianapolis.
Mrs. Fairfield was born June 23, 1935, in Marion County, to the now late Retus and Ruth (Heckman) Hull. She graduated from Whitestown High School in 1953.
She married Lawrence Fairfield on Aug. 15, 1954, in Whitestown; he survives.
She worked for Whitestown Elevator for some time, then Thorntown Home National Bank for 40 years, retiring in 2001. She spent winters in Florida.
Mrs. Fairfield's hobbies included quilting, crafts, stamping, cake decorating and baskets. She dearly loved playing the organ and piano. She also enjoyed attending her children's and grandchildren's sports. She loved her family very much, and especially enjoyed spending time with her grandchildren and great-grandchildren.
She was a member of Thorntown Baptist Church, where she played piano and organ for many years. She was a member of the Red Hat Society, Sugar Creek Home Ec, the Missionary Union of the Baptist church, and she taught Bible school most of her life.
Survivors include her husband; daughters, Brenda (Jerry) Bates of Clemmons, N.C., and Phyllis (Paul) Nicely of Lebanon; sons, Kevin Fairfield of Thorntown and Roger (Lori) Fairfield of Grand Junction, Colo.; and brothers, Charles Hull of Lebanon and Lowell Hull of Whitestown. She was grandmother to 16 and great-grandmother to 12.
She was preceded in death by siblings Rose Mary Starkey, Kenneth Hull and John Hull.
Visitation is 11 a.m. to 1 p.m. Saturday, May 31, at Thorntown Baptist Church, 120 S. Powell St., Thorntown. Services will be held at 1 p.m. Saturday at the church, with the Rev. Bud Moody officiating. Burial will be in Maplelawn Cemetery, Thorntown.
Russell & Hitch Funeral Home is in charge of arrangements.
Memorial contributions may be made to the Boone County Cancer Society, 117 W. Elm St., Lebanon, IN 46052.