Thorntown High School


Classes of 1924 - 1974

In Memory
James Warmoth - Class Of 1954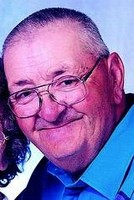 Mr. James Devon "Nuke" Warmoth Sr., 77, of Thorntown, died Monday, March 11, 2013, at Witham Memorial Hospital in Lebanon.

Born in Boone County on Nov. 29, 1935, James was the son of Oral and Madge (Rich) Warmoth.

Nuke was raised and educated in the Thorntown community and was a lifelong resident of Boone County. He had worked as a forklift operator at Stewart Warner in Lebanon. He then worked at the Indy 500 Truck Plaza in Whitestown for 18 years before retiring.

He married Dorann L. Smith on Jan. 5, 1981, in Boone County. Mrs. Warmoth passed away Jan. 17, 2007.

Mr. Warmoth was a devoted husband, father, grandfather and great-grandfather. He had many interests including fishing, hunting and playing pool.

Survivors include four children, James D. (Pam) Warmoth Jr. of Thorntown, Wanda (companion, Steve Crews) Ramey and Debbie (Brian) Hamilton, all of Sweetwater, Tenn., and Karen (Glenn) Gill of Lebanon; many grandchildren; numerous great-grandchildren; and two brothers, Robert (Juanita) Warmoth of Poland, Ind., and Charles (Lois) Warmoth of Lebanon.

In addition to his parents and wife, James was preceded in death by four brothers, Ralph E. Warmoth, Orville N. Warmoth, Leroy Warmoth and Irvine "Ike" Warmoth; and a sister, Marzetta Clemens.

Visitation is 9 a.m. to noon Friday, March 15, at Myers Mortuary, 1502 N. Lebanon St., Lebanon. Funeral services will be held at noon on Friday, March 15, at Myers Chapel of Memories, with Pastor Bud Moody officiating. Interment will follow at Maple Lawn Cemetery in Thorntown.

Memorials contributions may be made to assist the family c/o Myers Mortuary.

Online condolences may be made at www.myersmortuary.com.