Thorntown High School


Classes of 1924 - 1974

In Memory
Richard Clark - Class Of 1949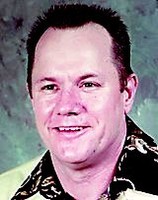 July 18, 2012
Richard S. Clark, 81, of Punta Gorda, Fla., passed away Sunday, July 15, 2012, at Charlotte Harbor Healthcare.
He was born April 6, 1931, in Thorntown, to Frank and Mable (Chism) Clark.
He married Patricia Ann Taylor Clark on Oct. 13, 1951; she survives.
After high school, Richard was drafted into the United States Army and was stationed in Germany. He worked as an inspector at the Ford Motor Company factory in Indianapolis for 33 years, retiring on Jan. 1, 1990.
He was a member of the Larrabee Lodge No. 131 in Stilesville, 32 degree Scottish Rite, Murat Shrine Indianapolis, and the American Legion in Zionsville.
His hobbies included hunting and spending time with his family.
He is survived by his daughter, Vicky (Dennis) Hexamer of Lebanon; grandchildren Amy (Eric) Zarychta of Lebanon, and Brock (Ashley) Isenhower of Lebanon; brother Frank (Patty) Clark of Thorntown; grandchildren Caleb and Cora Emmert, and Elexis, Mackenzie and Parker Isehower.
He was preceded in death by his parents and siblings Donny Clark, Wayne Lee Clark, Viola Clark and Virginia Lemon.
Family and friends will gather from 4 to 8 p.m. on Thursday, July 19 in the Strawmyer & Drury Mortuary, 2400 N. Lebanon St., Lebanon.
Pastor Jason Grubbs will officiate the funeral service at 11 a.m. on Friday, July 20, in the mortuary.
Mr. Clark will be laid to rest in the Oak Hill Cemetery following military graveside honors presented by the VFW Post 910 Honor Guard.
Online condolences may be made at www.strawmyerdrury.com.