Thorntown High School


Classes of 1924 - 1974

In Memory
Fay Youkey - Class Of 1932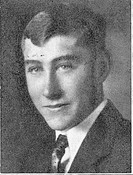 Fay Edward Youkey was born at home near Thorntown to Versie Goldie (Rogers) Youkey & Fred Youkey on July 26, 1914. His only sibling, Genevieve (Castetter) was also born at home, five years earlier. She graduated from Thorntown Academy as well as Purdue & taught at Thorntown Academy & Thorntown Elementary for over thirty years. After Fay graduated from Thorntown Academy, he took the Winter Short Course in Agriculture at Purdue University.
Afterwards, he and his cousin Louis Youkey took a trip to the western United States on their Indian motorcycles, both surviving an accident in Idaho when a motorist pulled out in front of them.
Fay married Ruby Ragsdale on October 8, 1938 at his family home near Thorntown. Ruby also graduated from Thorntown Academy. Their honeymoon trip to Florida on his motorcycle had to be aborted due to extreme fog & bad weather in the Appalachian Mountains.
Fay & Ruby had six children: Janet (Harrison), Paul, Cynthia (Merrill), Robert, Dale, & Elaine (Doyle), as well as 17 grandchildren & many great grandchildren. Dale died in a farming accident at age nine in May, 1963. Ruby died at age 58 in March, 1978. Fay died at age 87 in October, 2001. Fay & Ruby are buried in Maple Lawn Cemetery alongside their youngest son Dale, & one granddaughter, Colleen, who died at age four & a half. Fay's second wife Velma is buried in the Darlington Cemetery. Most of Fay's recent ancestors are also interred in Maple Lawn, as well as Bethel Hill and Cason Cemeteries.
Fay's father-in-law Jesse farmed, but also owned the only movie theater in Thorntown. It later became the dime store owned by Pete Rentschler. The large red brick home owned by Fred & Versie since 1915 still stands at the eastern edge of town, just across the bridge over Prairie Creek. There is a Native American burial ground on the property, with an historical marker by the road. Fay said they found dozens of arrow heads there, but he & his father never plowed that ground because it was hallowed by the Indians. He told the story of when an old Indian chief knocked on their door one evening about suppertime, pointed toward the east, and asked them to "no gee haw on that land". The boulders there at that time were said to mark the grave locations. Today on that parcel of land, the boulders have been replaced by a monument denoting some of the chieftains' names.
This bio furnished by Paul Youkey on 5/20/2015