Thorntown High School


Classes of 1924 - 1974

In Memory
John Ford - Class Of 1965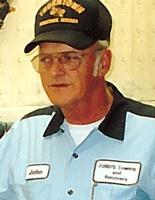 John O. Ford, Sr.
September 21, 1946 - June 10, 2018
"Built Ford Tough"
John O. Ford, Sr. of Thorntown, beloved husband, father, grandfather and proud business owner passed on peacefully to meet his Lord and Savior at the gates of Heaven on June 10, 2018 at the age of 71.
After his first job as a farm hand, John had a long career as a well-known and hard-working local business owner. He was a loving husband, father and grandfather who loved watching old western movies and listening to gospel music. He was seen to his eternal rest surrounded by loved ones, including his adoring wife of 54 years, Carol Ann Ford.
John was born September 21, 1946 to Fay and Laurel Ford in Thorntown and was a member of the THS Class of 1965. At a young age he discovered he was good at working with his hands and developed a life-long love for cars. As a teenager, John met the beautiful blonde love of his life, Carol Ann VanSickle, whom he married on October 8, 1963. For the next seven years he worked as a farm hand until he opened the Sunoco Service Station that he owned and operated from 1970-1990. In 1990 John began an independent towing service, Ford's Towing, which he proudly managed until 2016. He also co-owned and co-operated Thorntown Salvage Yard from 2003-2016. John will be remembered by the community and the police officers, with whom he frequently worked, as an extremely hard-working man who loved to crack jokes and give people a hard time. But most importantly, John was a family man who adored spending time with his wife, two children, six grandchildren and three great-grandchildren. He was a very giving and generous man who believed in supporting those in need.
John will be dearly and immensely missed by the love of his life, Carol "Blondie"; his son, John "Johnny" O. Ford, Jr.; daughter, Lisa (Cary) Clanton; six grandchildren, Catherine (Andrew) Repay, David (Courtney) Ford, Cari Ann (Joshua) Walker, Jessica (Jay) Indermaur, Erica Ford and Casey Clanton who will forever cherish Papaw's stories and songs; and his great-grandchildren, Spencer Ford, Raelyn Timmons and Jack Ford will miss sitting on Pappy's lap. John leaves behind siblings whom he loved dearly, Glenda Vanderkolk, Pat (Marvin) Wilson, Willa Wallace, Rev. Royce (Grace) Ford and Reba (Les) Evans. John was preceded in death by both of his parents along with siblings, Bill Ford, Jean Moore, Dessie Fisher, Francis Ford and Bud Ford.
Visitation will be held from 4-7 p.m. on Wednesday, June 13, 2018 at the GAP Community Church, 202 S. West St., in Thorntown. A funeral service will follow at 7 p.m. with John's brother, Reverend Royce Ford, and Pastor Doc Gardner officiating. Private graveside services will be held at Maple Lawn Cemetery at a later date. Arrangements are being handled by Myers and Hunt Mortuary of Thorntown and Boone County Crematory.
Memorial contributions and flowers can be sent to the GAP Community Church.
The family wishes to express their sincere gratitude to Kindred Hospice for their care of John.