Thorntown High School


Classes of 1924 - 1974

In Memory
Jack Cook - Class Of 1965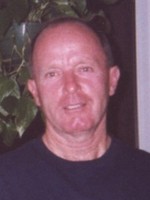 Jack Raymond Cook
— Jack Raymond Cook, 63, of Lebanon, died Monday, Aug. 2, at St. Vincent hospital in Indianapolis.
Jack was one of five sons born to Cline D. and Martha Jean (Stephens) Cook in Frankfort, on April 1, 1947.
After graduating from Thorntown High School in 1965, Jack served in the U.S. Air Force.
He worked as a service writer with Paul Harvey Ford, was a firefighter with the Center Township Fire Department and was a lineman with the Boone County REMC for 22 years.
Jack's loyalty and dedication to his community, neighbors and family was one of his best qualities. Throughout his life, Jack had the ability to touch people's lives in a lot of special ways. His countless numbers of friends were from all walks of life.
He attended The First Community Church in Lebanon. He was proud to be a member of the Lebanon Elks, having been named "Elk of the Year" twice.
Survivors include his mother; wife of 40 years, Rebecca (Batty) Cook; children, Kelly (Tony Greene) Cook and Grant N. (Sheila Hale) Cook; grandchildren, Charli, Josi and Jack Tanner Greene; brothers, Rex (Sheri) Cook and Eric (Jeanette) Cook; and sister-in-law, Margaret Voorhis; all of Lebanon.
He was preceded in death by his father; and brothers, Greg and Joe Cook.
Family and friends will gather from 2 to 8 p.m. Friday, Aug. 6, in the Strawmyer & Drury Mortuary, 2400 N. Lebanon St., Lebanon, with Elks rites at 8 p.m. Funeral services will be 10 a.m. Saturday, August 7, at the mortuary, with the Rev. Dean Devries officiating. Jack will be laid to rest in Oak Hill Cemetery in Lebanon, following military graveside rites presented by the VFW Post 910 Honor Guard.
Memorial contributions may be made to the Boone County Cancer Society, 117 W. Elm St., Lebanon, IN 46052 or the Boone County Humane Society, 307 S. Meridian St., Lebanon, IN 46052.