Thorntown High School


Classes of 1924 - 1974

In Memory
Bill Crouch - Class Of 1962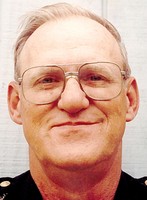 William A. Crouch
William A. Crouch, Sr., 73, passed away on Saturday, March 26, 2016, at Heritage Healthcare in West Lafayette, Indiana. He was born September 11, 1942 in Thorntown, Indiana, a son of the late Alva and Pansy (Maiden) Crouch.
On June 21, 1962, he was married to Cecelia K. (Loveless) Crouch in Thorntown; she survives.
A lifelong resident of Boone County, William was a graduate of Thorntown High School and the Police Academy in Indianapolis.
He had worked as a Deputy with the Boone County Sheriff's Department and was the Thorntown Marshal for several years, retiring at age 62. He also had volunteered with the Thorntown Fire Department for many years.
William was a loving husband, father, grandfather and great grandfather. He enjoyed his family and friends and woodworking.
Visitation is planned for Thursday, March 31, 2016 from 9:00 to 11:00 a.m. at Myers and Hunt Mortuary, 116 West Plum Street, in Thorntown Indiana.
Funeral Services will begin at 11:00 a.m., Thursday at the funeral home in Thorntown, with Pastor Bud Moody, officiating.
Interment will follow services at Maple Lawn Cemetery in Thorntown.
Survivors:
Wife:
Cecelia K. Crouch – Lafayette, Indiana
Three Children:
William A. Crouch, Jr. and wife, Myndi – Lafayette, Indiana
Robert Crouch and wife, Andi – Pittsboro, Indiana
Thomas Crouch and wife, Tammy – Brownsburg, Indiana
Nine Grandchildren
Eleven Great Grandchildren
Brother:
David Crouch and wife, Janice – Thorntown, Indiana
In addition to his parents, William was preceded in death by a brother, Donald "Don" Crouch, and his sister, Carrol Coffman.
Memorials may be made in his honor to the Thorntown-Sugar Creek Fire Department, 301 West Grant Street, Thorntown, Indiana 46071.