Thorntown High School


Classes of 1924 - 1974

In Memory
Eldred Griffith - Class Of 1961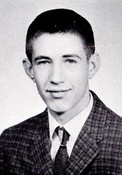 Mr. Eldred Lane "Elrod" "Griff" Griffith, 65, of Thorntown, died Sunday, June 21, 2009, at Homewood Health Campus in Lebanon.
A native of Tennessee, Mr. Griffith was born in Red Boiling Springs on July 31, 1943. He was the son of the late Oren Odell Griffith and Moline J. (Carlisle) Griffith. Mr. Griffith moved to Thorntown when he was in fifth grade. He graduated from Thorntown High School in 1961. He lived in Thorntown most of his life, with the exception of ten years spent residing in Riverside, Calif., from 1977 to 1987. He married Mary Jean "Jeanie" (Jamison) Griffith on Oct. 13, 1962, in Lebanon. Mrs. Griffith survives. A devoted husband, father and grandfather, Mr. Griffith enjoyed his family, camping and fishing. He had an appreciation for model airplanes and spent much of his leisure time building and flying the planes.
Survivors include his wife, who resides in Thorntown; his mother, who resides in Thorntown; three children, Sherri J. Kincaid of Thorntown, Michelle Schwestak and husband, Daniel, of Las Vegas, Nev. and Randy L. Griffith and wife, Courtney, of Thorntown; two brothers, Ronnie Griffith and wife, Sharon, of Frankfort, and Oren "Dude" Griffith and wife, Joan, of Danbridge, Tenn.; six grandchildren, Samantha Schwestak, Josey Schwestak, Paige Schwestak and Maci Schwestak, all of Las Vegas, and Krisha Griffith and Gage Griffith, both of Thorntown. He was preceded in death by his father and his son, Lannie Ray Griffith.
A family Memorial Services will be held. No Visitation is planned. Myers Mortuary in Lebanon is entrusted with arrangements for cremation.. Memorial contributions may be made to Lebanon Church of Christ, 1204 Indianapolis Ave., Lebanon, IN 46052.