Thorntown High School


Classes of 1924 - 1974

In Memory
Carolyn Cook (Gress) - Class Of 1959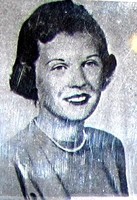 Deceased Classmate: COOK, CAROLYN (GRESS) (1959)
Date Of Birth: Oct-24-1941
Date Deceased: May-22-2012
Age at Death: 70
Cause of Death: COPD
Classmate City: Thorntown
Classmate State: IN
Classmate Country: USA
Was a Veteran: No
Survived By: Daughters: Jennifer Gress Johnson Valerie Gress Couture

Carolyn spent her last couple of years with her daughters and grandchildren in Ft Collins, CO and Raleigh, NC with a few extended stays back in Thorntown.
The Lebanon ReporterTue Jun 05, 2012, 02:12 AM EDT
Carolyn Cook Gress of Thorntown enjoyed a life full of family and friends until she died May 22, 2012. She was born in Indianapolis on Oct. 24, 1941, to the now late June Morrison Cook and Willard Moser Cook. She married Richard J. Gress; he preceded her in death. She lived the majority of her life in Thorntown.
Carolyn graduated Thorntown High School in 1959. She attended Butler University and Indiana State University and graduated from Indiana Central Business College.
Carolyn was employed with various financial institutions in Indianapolis prior to joining Home National Bank in Thorntown.
In 1963 she married Richard J. Gress who taught music at Thorntown High School and Western Boone High School. They had two daughters, Jennifer and Valerie.
The two daughters blessed Carolyn (Gigi) with five grandchildren, with whom she was able to visit for extended periods of time.
Carolyn truly enjoyed the rock 'n roll era of music. She was able to experience Elvis from the original 45s, 33-1/3, 8-track tapes, CDs and eventually a 24-hour Elvis radio station.
She supported the work of Psi Iota Xi, Sugar Creek Art Center and the Thorntown Public Library. She was always willing to comfort any ailing family or friends, and living in the small community was right for her.
Survivors include daughters Jennifer (Jeff) Johnson of North Carolina, Valerie (Rene) Couture of Colorado; grandchildren Kendall, Avery and Peyton Johnson, and Lauren and Oliver Couture; and brothers David Cook (Ann) and Todd Cook and their children. In the Gress family she is survived by many wonderful and supportive in-laws and nieces and nephews.
Carolyn's Celebration of Life will be from 5 to 7 p.m. Thursday at the Sugar Creek Art Center, 127 S. Pearl St., Thorntown. A private graveside service will be held.
Memorial contributions may be made to the Sugar Creek Art Center.