Thorntown High School


Classes of 1924 - 1974

In Memory
Larry Campbell - Class Of 1958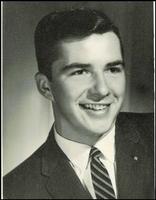 Larry M. Campbell, formerly of Thorntown, IN and most recently of Westfield, IN was born on October 13, 1941 and died at the age of 80 on February 24, 2022.
Advancing from kindergarten directly to the second grade at the age of five, Larry went on to graduate from Thorntown High School Class of 1958 and entered Purdue University at the age of 16. He became the first in his family to graduate from college. At Purdue Larry was involved in baseball, the Purdue Varsity Glee Club, Kappa Sigma Fraternity, and the Gimlet Club.
Larry served two years in the Army R.O.T.C at Purdue. During the Vietnam War his military service included enlistment in the U.S. Army and the Indiana National Guard. As a Sergeant (E-5) he was an artillery section chief and as a Sergeant First Class (E-7) assigned to J.A.G. at the 38th Infantry Division Headquarters.
Regarding his military service, Larry believed he, like many thousands of Hoosier soldiers, served Indiana and the USA without ever having to leave our nation's shores. His artillery unit was placed on alert status early in the war, but was not activated. That same unit was activated for "peacekeeping" assignments in Indianapolis and elsewhere. His unit was especially proud to be dispatched to Gary, IN in 1968 to assure a fair and safe vote for all when Richard Hatcher was elected the nation's first black mayor. Larry witnessed incidents of segregation on that trip, just as he had earlier at the Little League State Baseball Finals in Gary in 1952, when a team member and friend had suffered a similar indignity.
His youth in small town Indiana was such a marvelous time that Larry embarked on his adult years knowing one thing for certain: He would give back. And he did. He gave back to his sons and other youngsters through baseball. Like other adults (including his father), Larry used Little League baseball as a "give back" venue. During his years in Little League, Larry managed and coached teams and served as President for Youth Baseball and Softball──touching the lives of countless families in Washington Township, Indianapolis and saving a declining league by relocating and reorganizing the entire operation. He managed Little League teams and All Star teams for what is now called Washington Township Little League, was assistant District Administrator for Indiana District 8, was a board member and manager for Babe Ruth Baseball in Washington Township (coaching a winning State Championship team), and served as PTO member for the Indiana Amateur Baseball Association. He served as administrator at the 1989 Little League World Series.
As a boy, Larry played in Little League. He played in the American Legion Baseball. At Purdue he played baseball in his freshman year and played for Boone Beverage Company of Lebanon in the Mid States Independent League. His nickname, "The Old Right-Hander" No. 31, stuck with him later on the golf course too.
Larry had a diverse career in the financial services industry. This included positions as Vice President at American Fletcher National Bank, Senior Vice President of First Indiana Bank, and National Sales Manager for Heartland Industries. He concluded his career at the Federal Home Loan Bank of Indianapolis as Senior Marketing Representative.
In retirement, Larry was able to focus on mentoring young men and women at Purdue from 2002 to 2012. He was selected Alumnus of the Year for the Varsity Glee Club in 2004. He served as the Facilitator for the Strategic Plan of Purdue Musical Organizations in 2007 and was named to the College of Liberal Arts Alumni Board 2007-2010. In 2010, he was named a PURDUESHIRE along with other campus leaders serving as mentors.
Larry loved to sing. The Glee Club allowed him to sing for Kings, Presidents, business, leaders, high school students and retirees. Larry agreed with the Glee Clubs' long time director statement: "There's not fun without music, and no music without fun."
Larry was preceded in death by his parents, Snyder and Mildred Campbell, and a younger brother, Gary. "Larry Martin", as his relatives called him, loved his God, his wife and family, Purdue University, baseball, and life──in that order. (Maybe some golf, too.)
Along with that of his sons, Larry had the full support of his beloved Sherri. When rare disagreements did occur, talking to an agreeable conclusion followed. That was the model his parents used and the one he followed as a good son, a good husband, a good father, and a good friend.
Larry is survived by his wife and girlfriend (one and the same) and partner in all endeavors, Sherri, son Bradley (Michele), grandchildren Jordan and Addison, and son Ryan (Dawn), grandson, Nick Beeson, as well as nieces, nephews, great nieces and great nephews.
Sherri and the family express deep appreciation to the doctors, nurses, and staff of Ascension St. Vincent Hospital, Zionsville Meadows, and Compassus Hospice for the skill and kindness given to Larry in his final days. Their outstanding service greatly eased our minds and hearts at this most difficult time.
The Funeral Service will take place on Saturday, March 5, 2022 at Our Lady of Peace Chapel, 9001 Haverstick Road, Indianapolis. Visitation is from 10:00 a.m. until the time of service at 11:00 a.m. Interment will follow at Union Chapel Cemetery, 8306 Union Chapel Road, Indianapolis. A Celebration of Life will follow at Maggiano's Little Italy (Banquet Room), 3550 E. 86th Street, Indianapolis, IN.
Memorial contributions in Larry's honor may be made to the Purdue Musical Organizations c/o Ralph and Bettye Bailey Hall, 359 Northwestern Avenue, Purdue University, West Lafayette, IN 47906, the Larry Martin Campbell and Sherri Rush Campbell Purdue Varsity Glee Club Performance Fund as well as Purdue Baseball, Alexander Field, Purdue University.