Thorntown High School


Classes of 1924 - 1974

In Memory
Larry Goins - Class Of 1955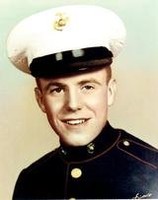 July 11, 2012
Larry Joe Goins, a resident of Boone County for 70 years, passed away on Tuesday, July 3, 2012, in Ocala, Fla., at the age of 75.
Larry was born in Noblesville, on March 7, 1937, the son of Joseph and Olive (Fouch) Goins, who predeceased him. Larry was also predeceased by his brother, Thomas; and his sisters, Janiece, Jeanette and Rebecca.
He graduated from Thorntown High School and joined the United States Marine Corps in 1955. He was honorably discharged in 1959, the same year he married his cherished and beloved wife of 51 years, Ruby Ann Kinslow, who survives him.
He was the beloved father of three children, Brian (Becky), Brenda and Betty, all of whom survive him and will miss him dearly. Larry is also survived by two grandchildren, Joanna and Philip Goins.
Larry was a proud Teamster, who drove buses and trucks for over 30 years without incident. He and Ruby raised and raced standardbred horses for many years. He enjoyed playing the mandolin and harmonica. He also enjoyed sea cruises, especially freighter cruises to New Zealand and Australia. Before that, he enjoyed pleasure boating, especially on the Ohio River.
Visitation will be 9 to 11 a.m. Saturday, July 14, at Russell & Hitch Funeral Home, 116 W. Plum St., Thorntown. A memorial service will be held at 11 a.m. Saturday at the funeral home, with the Rev. Glen Jewell officiating.
Donations, in lieu of flowers, may be made to the American Cancer Society, 6030 W. 62nd St., Indianapolis, IN 46278; or the Boone County Cancer Society, 117 W. Elm St., Lebanon, IN 46052