Thorntown High School


Classes of 1924 - 1974

In Memory
Dessie Ford (Fisher) - Class Of 1954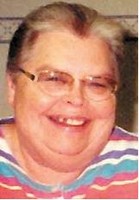 1936-2011
Mrs. Dessie Delores Fisher, 74, of Thorntown, died Tuesday, May 17, 2011, at her residence.
Mrs. Fisher was born June 8, 1936, in Indianapolis. She was the daughter of the late Fay Harold and Laurel Maggie (Smith) Ford. She was reared and educated in Boone County, where she graduated from Thorntown High School in 1954. She was a lifelong resident of the Thorntown area.
She married Bobby Joe Fisher on July 1, 1960, in Thorntown. Mr. Fisher passed away on Aug. 2, 1998.
Mrs. Fisher was a homemaker and she received tremendous joy in guiding her children as they became adults. A devoted wife, mother and grandmother, she took great pride in her family and their activities. In her spare time, she enjoyed crocheting, reading and singing at church and to her grandchildren and great-grandchildren.
She was a member of GAP Ministries in Thorntown.
Survivors include five children, Mike T. (Diana) Fisher, Mark S. (Patricia) Fisher and Kimberly J. "Jodi" Fisher, all of Thorntown, Pastor Daniel A. (Amy) Fisher of Delphi, and James A. "Andy" (Loretta) Fisher of Thorntown; five sisters, Jean Moore, Glenda VanDerkolk and Pat (Marvin) Wilson, all of Thorntown, Willa (Ronnie) Wallace of Bruce, Wis., and Reba (Les) Evans of Thorntown; three brothers, Francis (Kathy) Ford of Anderson, John (Carol) Ford Sr., and the Rev. Royce (Grace) Ford, all of Thorntown; 13 grandchildren; three great-grandchildren; and two sisters-in-law, Juanita Ford of Lebanon and Alice Ford of Thorntown.
She was preceded in death by two brothers, Fay Harold "Bud" Ford Jr. and William Ford; and two brothers-in-law, Donnie Moore and Tom VanDerkolk.
Visitation will be held from 4 to 8 p.m. Friday, May 20, at GAP Ministries, 210 S. West St., Thorntown. Funeral services will be held at 10:30 a.m. Saturday, May 21, at GAP Ministries, with the Rev. Royce Ford officiating. Interment will follow at Maple Lawn Cemetery in Thorntown.
Memorial contributions may be made to GAP Ministries, 210 S. West St., P.O. Box 55, Thorntown, IN 46071.
Myers Mortuary, Lebanon, is handling arrangements.