Thorntown High School


Classes of 1924 - 1974

In Memory
Jess James - Class Of 1953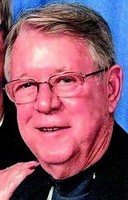 1935-2013

Mr. Howard Gene "Jess" James, 77, of Lebanon, died Friday, Feb. 15, 2013, at his home.

Howard Gene "Jess" James was born in Lebanon, on Sept. 25, 1935, the son of the now late Gilbert Lee and Mabel Ruth (Cox) James.

Reared and educated in Boone County, Mr. James graduated from Thorntown High School in 1953. Following school, he enlisted in the U.S. Army and served his country honorably.

He was formally married to Carolyn Jean (Boone) James on August 24, 1957. On Jan. 8, 1983, he was married to Terena C. (Richardson) James in Lebanon. Mrs. James survives.

Beginning in April 1961, Jess worked for Boone County REMC as a lineman. After 39 years, he retired as manager of operations.

Jess was a devoted husband, father and grandfather. He enjoyed playing cards, watching the Indianapolis Colts, and attending the Indianapolis 500 for many years.

He was a member of the First Community Church, Lebanon; the American Legion, Lebanon; Eagles Lodge No. 2062, Lebanon; Elks Lodge No. 635, Lebanon, where he was named Elk of the Year; Boone County Shrine, where he was a past president and also received the Lifetime Achievement Award; and the Siloam Lodge No. 609, Mechanicsburg.

Survivors include wife Mrs. Terena C. James, Lebanon; son Mr. Dane Alex James and wife, Lori, of Illinois; two stepsons Mr. Brian Brandt and wife, Andrea of Lebanon, and Mr. Derek Brandt of Lebanon; sister-In-Law Mrs. Rosemary Martin of Lebanon; seven grandchildren, Parker James, Trent James, Alexis Childs, Brayden Brandt, Gracie Brandt, Halle Brandt and Brooklee Brandt.

Jess was also preceded in death by a brother, Melbourne K. Martin, and a sister, Eleanor Mills.

Visitation will be 3 to 8 p.m. Monday, Feb.18, 2013, with Elks Rites beginning at 7:30 p.m., at the Myers Chapel of Memories, 1502 N. Lebanon St., Lebanon. Services are planned for 10:30 a.m. on Tuesday, at the funeral home, Pastor Cheryl Russell officiating. Entombment with military rites will follow at Oak Hill Cemetery in Lebanon.

Memorials may be made to the National Parkinson Foundation Gift Processing Center, P.O. Box 5018, Hagerstown, MD 21741-5018; the Murat Shrine Transportation Fund, 510 N. New Jersey St., Indianapolis, IN 46204; or Elks Lodge No. 635 Cancer Fund; 215 Lafayette Ave., Lebanon.

Online condolences may be made at www.myersmortuary.com.