Thorntown High School


Classes of 1924 - 1974

In Memory
Louanne Couger (White) - Class Of 1950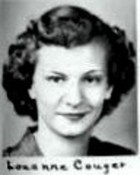 Marjorie "Lou Ann" (Couger) White, 79, of Jacksonville, Fla., formerly of Thorntown, passed away Monday, Oct. 24, 2011.
Lou Ann was born June 1, 1932, in Lebanon, to the now deceased Jesse and Marian (Brainard) Couger. She graduated from Thorntown High School in 1950.
She married Gerald D. White on Dec. 2, 1951, at the Thorntown Christian Church. She and Gerald lived in Thorntown until 1992. Lou Ann and Gerald then retired and moved to Florida — Punta Gorda, Port Charlotte and recently to Jacksonville.
Lou Ann worked at the Home National Bank, Boone County Assessor's Office, Thorntown Telephone Company, was Sugar Creek Township Trustee, and was owner of Lou Ann's Clothing Store in Thorntown.
She was a very proud member of the Thorntown P.E.O.
Survivors include her husband, Gerald; sons, Rick, Dan and Steve (Janet); grandchildren, Tristan, Jessica, Allison, Lucas, Levi (Ashley), Ashley and Abby; and one brother, Dan (Virginia) Couger.
She was preceded in death by her parents and a sister, Margaret Jane Williams.
Visitation is 11 a.m. to 1 p.m. Friday, Nov. 4, at Russell & Hitch Funeral Home, 116 W. Plum St., Thorntown. Burial will follow at the Maple Lawn Cemetery in Thorntown.