Thorntown High School


Classes of 1924 - 1974

In Memory
Devon Woody - Class Of 1949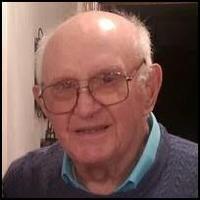 Devon Woody, 90, of Frankfort, passed away Dec. 29, 2020, at St. Vincent Hospital in Indianapolis.
Devon was born April 29, 1930, in Crawfordsville, a son of the late Leonard and Della (Smith) Woody. He married Rovene Barrett Woody on July 31, 1953. She died in May of this year.
Devon graduated from Thorntown High School in 1949. He then went on to serve in the U.S. Army during the Korean conflict. Devon was involved in his community as a farmer, also owning Woody Farm Repair. He was also an auctioneer. Devon was a member of Countryside Christian Fellowship. He always enjoyed spending time with his grandchildren and attending their events.
Survivors include his children, Dale Woody of Frankfort, Marcia (Greg) Stoner of Lafayette, and Marlena (John) Metzger of Lebanon; grandchildren, Daniel and Elijah Woody, Luke Fehribach, Lydia King, Jessica Stoner, and Melissa Smith; great-grandchildren, Chloe Smith and Dean William Fehribach; and nieces, Vaughnie Slipher and Vivian Norman. In addition to his parents and wife, Devon was preceded in death by his son, James "Jamie" Earl Woody; grandson, Isaac Woody; brother, Jon Woody and sister, Opal Hesler.
Family and friends will gather Monday, Jan 4, 2021, for visitation from 11 a.m. until the time of the funeral service at 1 p.m. in the Strawmyer & Drury Mortuary, 2400 N. Lebanon Street, Lebanon. Due to public health concern, CDC guidelines will be followed for social distancing. Those attending are encouraged to wear a mask and follow precautions. Devon will be laid to rest at Maple Lawn Cemetery in Thorntown. You are invited to visit the website www.strawmyerdrury.com where you may sign his online register and leave a personal message