Thorntown High School


Classes of 1924 - 1974

In Memory
Lawrence Fairfield - Class Of 1948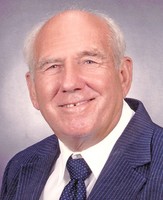 Lawrence's Story
Lawrence Roy "Larry" Fairfield went home to be with his Lord and Savior on Dec. 16, 2016, while surrounded by family at Summer Trace Rehabilitation Center in Carmel. Lawrence was born Feb. 11, 1930, to Roy and Bessie (Veach) Fairfield. He married Wilma Jean Hull on Aug. 15, 1954, and remained married to her until her death in 2014. Lawrence graduated from Thorntown High School in 1948, where he enjoyed playing on the basketball team.
He served as a sergeant during the Korean War from 1951 to 1953. Lawrence continued his service in the reserves until 1957. He worked as a mechanic before starting his career as a carpenter, and he continued in carpentry until his retirement at the age of 75.
He helped plant and build Thorntown Baptist Church, serving as deacon and eventually pastor for several years. He also served as song leader and Sunday school teacher. He used his hand saw with a bow to play his favorite hymns to everyone's delight. He was musically gifted, as he played the harmonica and he also could play the piano by ear. He loved to laugh and tell jokes, but more importantly had a servant's heart for the Lord and loved sharing the love of Jesus with everyone.
Lawrence loved being outdoors and enjoyed fishing in Florida after his retirement. Like his father, he especially loved gardening and working in his yard. He also enjoyed attending his grandchildren's and great-grandchildren's sporting events, 4-H shows, and other extracurricular activities.
He will be sorely missed by so many including, his four children, Brenda (Jerry) Bates, Phyllis (Paul) Nicley, Kevin (Cindy) Fairfield and Roger (Lori) Fairfield; as well as 16 grandchildren and 13 great-grandchildren. He also is survived by sisters, Janet (Denny) Osborne and Aletha (Tom) Ecoff.
Lawrence was preceded in death by his loving wife, Wilma; a brother, Wilbur Padgett; and sisters, Opal Osborne, Lela Lewis, Mary Eaton and Esther Faucett.
Visitation will be held from noon to 2 p.m. today, Dec. 20, at New Beginnings Church (formerly Thorntown Baptist Church). Funeral services will be held 2 p.m. today at the church. Interment with military rites will follow at Maple Lawn Cemetery, Thorntown.
Memorial contributions may be made in his honor to his church, New Beginnings, 120 S. Powell St., Thorntown, IN 46071; or to the American Diabetes Association, 8604 Allisonville Road, Suite 140, Indianapolis, IN 46250.