Thorntown High School


Classes of 1924 - 1974

In Memory
Robert Hamm - Class Of 1947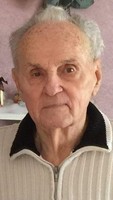 Robert E. Hamm
Robert E. "Windy" Hamm Sr., 86, Kokomo, passed away at 5:35 p.m. on Friday, August 19, 2016, at St. Vincent Hospital in Indianapolis. He was born October 17, 1929, in Attica, to Irvin Hamm and Inez (Humphries) Hamm-Edens. On July 23, 1948, he married Ruby M. Johnson, in Frankfort, and she survives.
Robert graduated from Thorntown High School with the Class of 1947 and worked in skilled trades at Chrysler Transmission Plant for 31 ½ years before retiring. He was also owner of Hamms Appliance for ten years. He enjoyed golfing, fishing, and hunting and especially loved his family, from his kids down to his great-grandkids. He was a member of UAW Local 685 and Judson Road Christian Church.
In addition to his wife of 68 years, Ruby M. Hamm, he is survived by his children, Marsha (Werner) Zackschewski, Robert Hamm, Jr., Cathy Gaines, Cindy (Howard) Kelley, Sandra (Scott) Sandoval, Johnna (Mike) Pearson and Michael (Coby) Hamm; grandchildren, Doug (Lei "CoCo") Zackschewski, Shawn (Jennifer) Zackschewski, Heidi (Brandon) Needler, Eric Hamm, Charlene Stoner, Corey Hamm, Aisha Goldman, Levi (Jessica) Gaines, Chad (Chris) Romack, Chris Kelley, Nicholas (Kim) Kelley, Alisha Rushing, Jennifer Pickering, Austin (Alicia) Pearson, Derek Pearson, Hailee Pearson, Anthony Hamm, Christian Hamm and Daniel Hamm; 25 great-grandchildren, with one on the way; sisters, Karolyn Kristiansen and Ruthann Wyant; and several nieces and nephews.
He was preceded in death by his parents; brother, Fred Hamm; two sisters, Betty Joe Lough and Jane (Wyant) Clouser; and two brothers-in-law, Bjorn Kristiansen and Max Lough.
The funeral service will be held at 11 a.m. on Thursday at Shirley & Stout Funeral Home, 1315 W. Lincoln Rd., Kokomo, with Pastor Gary Carpenter officiating. Burial will follow in Sunset Memory Garden Cemetery. Friends are invited to visit from 4 to 8p.m. on Wednesday at the funeral home