Thorntown High School


Classes of 1924 - 1974

In Memory
Pauline Carter (Davis) - Class Of 1946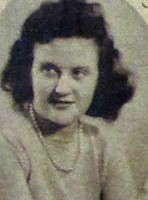 May 2, 2013
Mrs. Velma Pauline Davis, 84, of Thorntown, passed away Tuesday, April 30, 2013, at Homewood Health Campus, Lebanon.

Mrs. Davis was born Sept. 4, 1928, in Clinton County. She was a daughter of the now late Omar and Marjorie (Boyd) Carter. She graduated from Thorntown High School in 1946.

She married Richard A. Davis on May 28, 1949, in Thorntown. He passed away May 14, 1993.

Mrs. Davis worked as a cook at Thorntown Elementary School for 35 years, retiring in 2001.

Her hobbies included bowling; she was a member of the Lebanon Bowling Hall Fame. She also was an avid reader and sports fan and she enjoyed her grandchildren.

Mrs. Davis was a member of the Thorntown Christian Church.

Survivors include one daughter, Vickie (Tilford) Shepherd of Thorntown; one son, Gary (Holly) Davis of Thorntown; four grandchildren, Adam (April) Shepherd, Matt (Amy) Shepherd, Dusty (Rob) Girdley and Misty (companion, Jeff Breidenbach) Davis; seven great-grandchildren, Cassidy, Ethan, Ella and Emily Shepherd, and Paxton, Hunter and Caleb Girdley.

She was preceded in death by her parents, husband and two sisters, Virginia Heaton and Vivian Rose.

Visitation is 4 to 8 p.m. Friday, May 3, at Thorntown Christian Church, 125 W. Main St., Thorntown. Services will be held at 11 a.m. Saturday, May 4, at the church, with the Rev. Glen Jewell officiating. Burial will be at Maple Lawn Cemetery in Thorntown.

Memorial contributions may be made to Thorntown Christian Church, 125 W. Main St., Thorntown, IN 46071.

Russell & Hitch Funeral Home, Thorntown, is in charge of arrangements.