Thorntown High School


Classes of 1924 - 1974

In Memory
Richard Harshman - Class Of 1945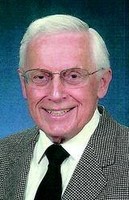 — Mr. Richard L "Dick" Harshman, 85, of Lebanon, died Saturday, May 18, 2013, at Signature Healthcare at Parkwood in Lebanon.

Dick was born Dec. 31, 1927, in Clinton County, the son of the now late Carl Burton and Beatrice Irene (Berkey) Harshman.

Reared and educated in Thorntown, he graduated from Thorntown High School in 1945. He later attended Indianapolis Central Business College. In September of 1945, Dick joined the Merchant Marines and served until 1946. He then enlisted in the United States Army and was honorably discharged in 1947.

He first married JoAnne Berauer, and they divorced after 16 years. He later married Peggy Webb Massingale. After 40 years of marriage, Mrs. Harshman passed away in 2005.

Dick was a Prudential Insurance agent on the east side of Indianapolis for 30 years. He retired in 1983 and became a licensed real estate broker, serving in that capacity for several years.

A dedicated father, grandfather and great-grandfather, he loved spending time with his family and friends. Dick was very active in the Full Gospel Business Men's Fellowship International for over 20 years. It was the largest group of Christian Business Men in the world. He attained life membership in the group, with the title of international director. The goal of the fellowship is to bring in speakers all backgrounds to share their testimony on how and when they received Jesus Christ as their Lord and Savior. He mused the fact that he was witness to all kinds of situations and problems such as addressing 7,500 people in Cobo Hall, sunglasses were required, he could see only 8 to 10 rows back and was told later that the temperature was 110 degrees. Dick was always amazed by how and why the Lord used him. He capitalized on growing up in Thorntown, his "8th grade education," and his dad playing the piano every evening. God is good! Dick had a passion for writing and he authored a series of newspaper articles titled "Whatever Happened To…," focusing on Lebanon acquaintances who, he believed, had made contributions to their community.

He was a member of Centenary United Methodist Church in Lebanon, American Legion in Thorntown, and was a former member of the Lebanon Rotary Club.

Survivors include four children, Richard L "Rick" Harshman II and Dirk B. Harshman, both of Indianapolis, Jana S. Benson of Carolina Beach, N.C., and J Lance Harshman of Rockville; stepson, Steven Wright of Indianapolis; a dear cousin, Wanda Clark of Warsaw; several grandchildren and great-grandchildren; and longtime friend, Lois Buntin of Lebanon.

In addition to his parents and his wife, Dick was preceded in death by a stepdaughter, Kathy Seecof, and a son-in-law, Joseph Benson.

Visitation is noon to 2:30 p.m. Wednesday, May 22, at Myers Mortuary, 1502 N. Lebanon St., Lebanon. Funeral services will be held at 2:30 p.m. Wednesday at Myers Chapel of Memories, with the Rev. Jim Ramsey and the Rev. Marcy Patrick officiating. Interment, with military rites, will follow at Maple Lawn Cemetery in Thorntown.

Memorial contributions may be made to Centenary United Methodist Church, 910 Fordice Road, Lebanon, IN 46052.

Online condolences may be made at www.myersmortuary.com.