Thorntown High School


Classes of 1924 - 1974

In Memory
Mark E. Peery - Class Of 1944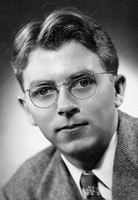 Centerville, Indiana

1926-2013

Mark Edward Peery, of Centerville, passed away Sunday, April 7, 2013.

Mark was born in 1926 in Thorntown, to Herschel and Winifred Peery. He graduated from Thorntown High School in 1944.

In his youth Mark worked very hard on the family farm, and at an early age he dedicated himself to serving God for the rest of his life. Mark never wavered from this commitment in his 86+ years.

Mark attended Earlham College in Richmond, graduating in 1947. He also worked for Quaker Hill during those years and preached at New Westville Friends Church in New Westville, Ohio. He went on to pastor a Quaker church in Clintondale, N.Y., before teaching school at Oakwood Friends School in Poughkeepsie, N.Y. He also taught public school at Bethel, Pa., and Marshallton, Del. In 1964, he was led to start a center for prayer and spiritual learning in Elverson, Pa. In 1980 Mark moved to Westfield, where he continued his prayer ministry until 2011. He subsequently moved to Centerville.

Mark was a steadfast man of prayer even to his last breath. He earnestly sought to love and lift people to a closer, more immediate awareness of God, and to free people from the terrible binds of evil. Today we honor his fierce and fearless will that our world become in every respect a place where God is welcome and everyone can learn to be a better person.

Mark leaves behind to cherish his memory, his loving and loyal wife, Susan Peery of Centerville; his sister, Martha Gwyn of Chapel Hill, N.C.; and a large, extended family of friends and supporters, including his eight children, Charles Peery, Nathaniel Peery, Sylvia Weider, Rocatta Tait, Jonathan Peery, Emerson Peery, Mark X. Peery and Sally Charuk.

Mark is preceded in death by his son, Thaddeus Peery.

No memorial service is planned at this time. Arrangements are being handled by Mills Funeral Home, 405 E. Main St., Centerville.

Online condolences may be made at www.doanmillsfuneralhome.com.