Thorntown High School


Classes of 1924 - 1974

In Memory
Vinnie List (Luper) - Class Of 1943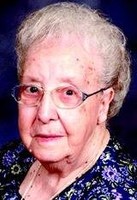 Mrs. Vinnie Mable Luper, 86, of Lebanon, died Monday, Dec. 12, 2011, at Witham Memorial Hospital in Lebanon.
Mrs. Luper was born July 16, 1925, in McCordsville. She was the daughter of James and Minnie (Lefforge) List; they preceded her in death. She was reared and educated in Thorntown, where she was a 1943 graduate of Thorntown High School.
She married Robert Alfred Luper on Dec. 24, 1944, in Thorntown; Mr. Luper preceded her in death on April 17, 2009.
Mrs. Luper worked for Montgomery Ward, Mallory's and most recently as a cook at Lebanon Manor for more than 20 years.
She spread her love with food; she enjoyed making noodles, pies and many other delicious treats for those she cared for. She was devoted to her husband, children and grandchildren, and she enjoyed spending time with her family and friends.
She was a member of the Lebanon Christian Church and Eastern Star.
The Luper family would like to thank Mary Anne at the Magic Mirror for her friendship and always making Vinnie's hair look great for many, many years. Vinnie loved playing cards with friends at the Lebanon Senior Center on Mondays.
She is survived by her three sons, Robert Lee (Connie) Luper, and Stephen Allen (Tish) Luper, both of Lebanon, and Larry Leon (Dottie) Luper of Florida; brother, Howard (Jean) List of Greenfield; sisters, Annabelle (Phil) Pinnick of Orleans, and Edna Grater of Lebanon; 11 grandchildren; two foster-grandchildren and 12 great-grandchildren.
She was also preceded in death by a son, David Howard Luper; two grandchildren; and siblings, Marcus, Paul and Dempsey List.
Family and friends will gather from 4 to 8 p.m. Wednesday, Dec. 14, at the Strawmyer & Drury Mortuary, 2400 N. Lebanon St., Lebanon. Services are 11 a.m. Thursday, Dec. 15, at the mortuary, with the Rev. Raymond Duff officiating. Mrs. Luper will be laid to rest in the Hopewell Cemetery in Lebanon.
Memorial contributions may be made to the Lebanon Senior Citizens, 707 S. Lebanon St., Lebanon, IN