Thorntown High School


Classes of 1924 - 1974

In Memory
Betty Bryant - Class Of 1941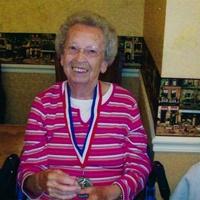 Betty A. Bryant August 19, 1923 - June 06, 2018

Betty A. Bryant, 94, of Lebanon, passed away June 6, 2018, at the Waters of Lebanon.
Betty was born August 19, 1923 in Thorntown, a daughter of the late Lloyd and Kathleen (Brown) Allen. She married Charles W. Bryant. He passed away in 1999.
Betty graduated from Thorntown High School with the Class of 1941. She was an excellent seamstress and was known for her crocheting and knitting. Betty would assist with her husband's business, Bryant Garage in Thorntown. She always had a smile on her face and was willing to help others. She was a member of the Thorntown United Methodist Church.
Survivors include her daughters Cheryl (Jeff) Edmonds and Denise (Chuck) Wright, both of Lebanon; grandchildren Dennis (Jennifer) Reagan of Thorntown, Todd (Lacy) Reagan of Muncie, Kiley (Dan) Kallenberger of Lake Orion, MI, and Allison Watson of Whitestown; and great-grandchildren Cora, Charlie, and Evie Reagan. Betty was preceded in death by her daughter Darla Bryant Reagan in 1981, her sisters Jean Rhoades, Norma Butz, and Helen Tarmen, and sons-in-law Mike Reagan and Stephen Watson.
Family and friends will gather Sat., June 9, 2018 for visitation from 1 p.m. until the time of the service at 3 p.m. with Marilyn Cougar officiating in the Strawmyer & Drury Mortuary, 2400 N. Lebanon Street, Lebanon. Betty will be laid to rest at Maple Lawn Cemetery in Thorntown. You are invited to visit the website www.strawmyerdrury.com where you may sign her online register and leave a personal message. Memorial contributions in her memory may be made to the Thorntown Public Library, 124 N. Market Street, Thorntown, IN 46071.