Thorntown High School


Classes of 1924 - 1974

In Memory
John Robert (Bob) Smith - Class Of 1940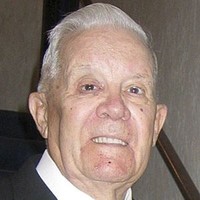 John R. "Bob" Smith 1922-2015
Posted: Tuesday, July 7, 2015 7:00 am
John R. "Bob" Smith, 92, of Indianapolis, died July 2, 2015, with his wife Bonnie at his side. He was born to the now late Veatha and Buren Smith on Oct. 10, 1922.
A longtime resident of Indianapolis, Bob graduated from Thorntown High School in 1940, and joined the Navy. While Bob was stationed in Wildwood, N.J., Bonnie joined him and they were married June 22, 1945. They recently celebrated their 70th wedding anniversary, quite a milestone for this devoted couple.
Survived by his loving wife, Bonnie, he is also survived by daughters, Ret (David) Yeager of Plymouth, Mich., and Linda (Doug) Zapp of Greenwood; sons, Denny Smith of Greenfield and Phil Smith of Fort Wayne; eight grandchildren (plus one deceased) and 17 great-grandchildren (with the 18th due in August); and a brother, Hamer (Betty) Smith of Lafayette.
A longtime and loyal employee of the Kroger Company, Bob retired in 1983 and spent most of his retired years at sporting events of grandchildren, great-grandchildren and nieces and nephews. He also enjoyed visiting relatives, fishing and playing euchre, and was known to drop a coin or two at the casino. His greatest joy, though, was his family. He leaves a legacy of love, fun, laughter and loyalty. He will be greatly missed.