Thorntown High School


Classes of 1924 - 1974

In Memory
Jack Moore - Class Of 1960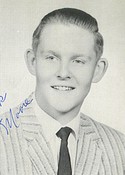 Thorntown
1942-2011
Jack James Moore Jr., 68, of Thorntown, passed away Saturday, June 4, 2011, at his winter home in New Concord, Ky., on Kentucky Lake.
Jack was born Aug. 1, 1942, in Indianapolis. He was preceded in death by his father and mother, Jack J. and Dorothy (Coyle) Moore, one sister and one brother.
He was employed by CSX Railroad for 42 years. He retired in 2002, and bought a winter home on Kentucky Lake.
Jack married Barbara L. Naas on Dec. 28, 1963, at St. Joseph's Catholic Church in Lebanon. He was a loving and devoted husband, father and grandfather.
He was a member of the Murat Temple, Shriners International, Thorntown Lodge No. 113 F&A.M., a lifetime member of the American Legion Post 113 and Fraternal Order of Eagles Aerie 2062. He enjoyed fishing on Kentucky Lake with his children and grandchildren. He loved woodworking and doing projects around his winter home.
Survivors are his wife Barbara, daughter Karen (Bob) Taylor and son Rodney (Christina) Moore, all of Thorntown; grandchildren, Christopher Taylor of Belize, Central America, Bobby (Jessica) Taylor of Indianapolis, Briana and Brayton Taylor, both of Thorntown, and Steven (Christy) Hale, Robert Hale, Megan Moore and Dustin Hale, all of Lebanon; and great-grandchildren, Katie, Dominic, Landon, Logan, Lucus and Kenzie.
Visitation is 2 to 4 p.m. Sunday, June 12, at the Lebanon Christian Church, 610 W. CR 250 N, Lebanon. A memorial service will be held at 4 p.m. Sunday at the church.
Arrangements were handled by Imes Miller Funeral Home, St. Murray, Ky.