Thorntown High School


Classes of 1924 - 1974

In Memory
George Lamar - Class Of 1960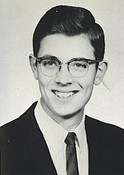 George Clifford Lamar
George Clifford Lamar, 65, of Martinsville, died on Sunday, June 1, 2008, at his residence. Mr. Lamar was born on June 9, 1942, in Lebanon, to the late Clifford and Ruth (Hine) Lamar.
On June 9th, 1990, he married Bonnie Kay (Wood) Lamar. She survives in Martinsville.
He was a graduate of Thorntown High School and went on to receive his degree in education from Indiana State University. During the 1960s, Mr. Lamar moved to Martinsville from Lebanon and was an Industrial Arts teacher at Martinsville High School. He later accepted a job with Allison's General Motors in Indianapolis as a lay-out draftsman and retired in 1999. Mr. Lamar was a member of Eastview Christian Church in Martinsville and was actively involved with the Boy Scouts for many years. He served two terms as the Boy Scout Commissioner and served as Scout Master. He was also keenly involved with the Handicapable Camp at Bradford Woods. He found pleasure in riding his Goldwing motorcycle, scouting and bowling.
He is survived by three sons, G. Clifford Lamar Jr. of Camby, Jeffrey Lamar of Indianapolis, and Steven Lamar of Martinsville; one step-son, Mike Randall of Martinsville; one step-daughter, Rachele Randall of Westfield; one brother, Carlton Lamar of Lafayette; seven grandchildren, Renda, Jessica, Sean and Rylie Lamar, and Nicolas, John and Katherine Randall; and two great-grandchildren.
Friends may visit from 3 to 8 p.m. Wednesday at Neal & Summers Mortuary, 110 E. Poston Rd., Martinsville, and from 11 a.m. to noon Thursday at Eastview Christian Church, 2745 Old Morgantown Road, Martinsville. A celebration of life service will be held at noon Thursday, at the church. Mr. Lamar will be laid to rest in Nebo Memorial Park Cemetery in Martinsville.
Condolences may be sent to the family at www.nealandsummers.com.