Thorntown High School


Classes of 1924 - 1974

THS 1915 IHSAA State Champs!
BY JAKE THOMPSON – THE LEBANON REPORTER

A yearlong celebration of Thorntown's 1915 IHSAA state champion boys basketball team will conclude with a throwback game on Saturday, Dec. 5. Western Boone and Zionsville will square off with a 1 p.m. junior varsity tip, followed by the 3 p.m. varsity game at the 1,800-seat Thorntown Elementary gymnasium.
"I think it's wonderful and great to embrace the tradition in the county and shows passion and love from Thorntown alums," Indiana Basketball Hall of Fame Executive Director Chris May said. "It is no small feat and I wish small towns and communities would do more of this."
Between the two games there will be a special presentation for all Thorntown basketball supporters — players, cheerleaders, coaches, athletic directors, team managers, mascots — in attendance.
Players and cheerleaders will be in throwback uniforms, and fans are encouraged to dress in the style of that era.
"Back in the day, eight or nine county schools were rivals and friends through those years," said 2015 Thorntown Alumni Association co-president Martha Randel. "This game will be a great way to honor those."
The rivalry between Thorntown and Zionsville was a lasting one, one that alumni still talk and reminisce about.
Gordon Waite, a 1963 Thorntown graduate, said he believed the two teams had a very close record against each other. He recalled Zionsville had a 31-30 advantage when the teams suspended playing one another. There will also be a 50/50 raffle held by the Thorntown Alumni Association to help obtain funds for four roadside championship signs.
Four signs, located at the main entrances to Thorntown, with the writing "Home of the 1915 IHSAA Boys Basketball State Champions, Thorntown Keewasakees," will be erected and greet visitors as they enter. The signs will be displayed at the east and west entrances of state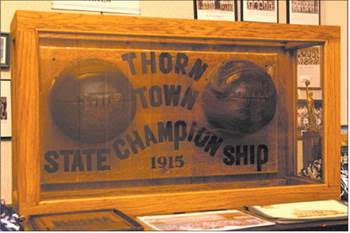 HAND CRAFTED: Thorntown coach Chet Hill put this trophy together after his team won the state title. It includes the half balls from both the sectional final and state final games.
Photos by Jake Thompson | The Lebanon Reporter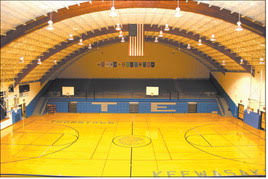 SMALLER SCALE: The Thorntown Elementary Gymnasium, capacity 1,800, will play host to the throwback game between Western Boone and Zionsville.
Route 47, the SR 75 entrance, and the Sugar Creek Avenue entrance. The signs will reside on private property.
While the TAA is not an official sponsor, it will hold the donations in its treasury until the signs are made, installed, invoiced and paid.
"We're proud Thorntown has that achievement… it's fun to talk about that and those men," Randel said.
The TAA said in a release it hopes this project will also help promote and encourage people to visit the Thorntown Heritage Museum, Thorntown Public Library and all Thorntown merchants.
Donations for the signs may be mailed to Treasurer- Thorntown Alumni Association, 809 Bibler St., Lebanon, IN 46052. Make all checks payable to Treasurer- Thorntown Alumni and write in the memo section: sign project.
.
.